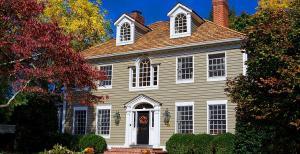 Congratulations on your new home! It's bright and clean and just what you wanted. But, as we all know, time goes by and things begin to change. With regular maintenance, you should be able to keep your yard and siding looking new, but your roof may begin to develop dark brown or green streaks over time. While some of this is dirt, dust and pollen, much of it is lichen and algae. And while the dirt may wash off the next time it rains, the algae is there to stay. This can make your home look much older and detract from the overall appearance. Not only that, but algae and lichen can shorten the lifespan of your roof, causing you to replace your shingles more often. If you notice your roof beginning to look streaked and dark, you might want to consider roof cleaning Jacksonville FL with First Coast Home Pros.
Cleaning your roof isn't something you want to make a quick decision about. Many cleaning services offer roof cleaning, but, in many instances, choosing the wrong one can void the warranty on your shingles and even damage the underlayers of the roof. In other cases, strong chemicals can damage the adhesive that holds particles to the shingles and kill the vegetation around your home. Picking the correct method can help lengthen the life of your roof and save you money.
There are three main types of roof cleaning Jacksonville FL and a large debate on which to use.