Jacksonville Air Duct Cleaning Service
Of the cleaning services in which we are proud to be specialists, air duct cleaning is by far the one that requires the most trust between the consumer and the air duct cleaning service provider.  There are many unscrupulous air duct cleaning companies purporting to be something they are not, many advertisements using unrealistic scare tactics, and of course bait and switch tactics are prevalent in the industry.  You need to feel confident in the professionalism of the firm you hire to clean your air ducts because you are asking someone to clean the inside of your duct work, where it can be difficult to see the results of the job.
When you're having your air ducts cleaned, make sure it's done right!
Our entire business is built on the principle of treating our customer's homes as though they are our own.  In each of our award winning services, we are committed to performing a complete job at an upfront, fair price.  Our air duct cleaning service is no different.  Here is what you'll get with every air duct cleaning job:
All supply ducts cleaned with patented Rotobrush aiR+ air duct cleaning system
All return ducts cleaned with patented Rotobrush aiR+ air duct cleaning system
Main trunk cleaned using patented Rotobrush aiR+ air duct cleaning system
All vent covers washed
Air handler topically cleaned
Other related services available upon request:
Entire system sanitized with EnviroCON antimicrobial fogger
Dryer vent cleaning at a reduced price
Clean air ducts are an important component to having a clean home, and therefore it can be a great idea to clean your vent system.  For maintenance purposes, we recommend that your air duct and vent system be cleaned every 3-5 years, depending on a variety of factors including your personal preference, number of pets in the household, cleanliness of the household, and other activities that affect indoor air quality, such as smoking inside.  Air duct cleaning is also a good idea at the completion of a remodeling project, when moving into a new home, or if you experience increased allergies.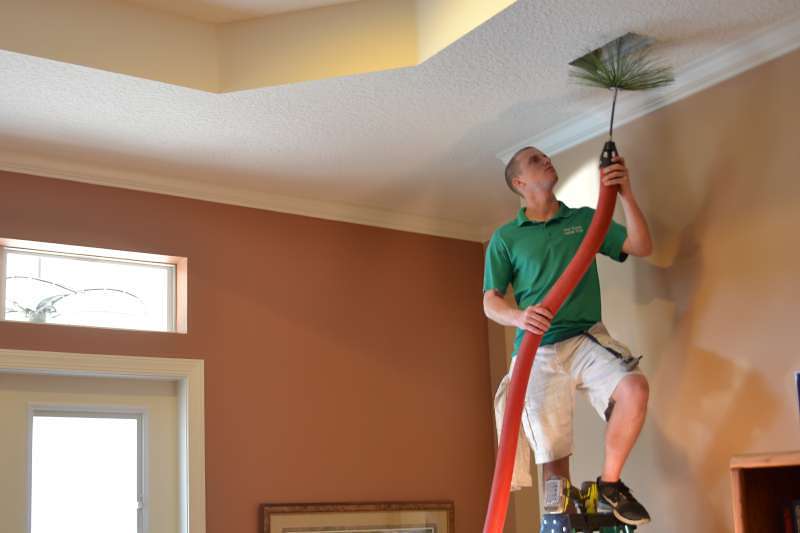 There is some disagreement within the industry about the best method for cleaning air ducts.  The two schools of thought are the "negative air" approach and the rotary brush and vacuum approach.  We believe that both air duct cleaning methods can achieve great results in most situations when performed properly by competent technicians.  However, our focus has always been on high quality residential service.  The type of residential duct work commonly used in homes in the South poses unique challenges to duct cleaners because it is soft, flexible, and does not go in straight lines.  Firms using the negative air approach are especially challenged by this type of duct work, as that process was originally designed to work well on the rigid metal duct work commonly found in the North and in large commercial buildings.  The tools used to agitate the duct work in negative air cleaning are very difficult to get all the way into your duct work and can damage the lining of the ducts we find in most residences in the greater Jacksonville area.
We use Rotobrush aiR+ professional air duct cleaning equipment (rotary brush and vacuum) and believe very strongly that this is the best equipment to clean the air ducts in your home.  Our equipment features a camera system so that if you would like, you can see what we are doing as we are doing it.  The Rotobrush aiR+ is designed specifically to handle the soft, flexible ducts in homes in the South. We are able to clean air ducts by inserting the rotating brush into the duct. With the brush rotating at 450 rpm, it loosens any debris that may be stuck inside. While the brush is scrubbing the walls, the vacuum sucks up the debris, leaving your air ducts clean.
Once we have cleaned your entire air duct system, our job is not finished.  All of your vent covers are washed, and before they are replaced we sanitize your system with EnviroCON antimicrobial fogger.  This EPA registered disinfectant is commonly used in hospitals and nursing homes, and works to eliminate mildew and mold in your air ducts.  And, lastly, everything in your home is left exactly as we found it, with no mess left behind!
Beware of any air duct cleaning service that says they can clean your air ducts for a $79 special or anything like that.  Proper cleaning of air ducts cannot be done in twenty minutes – so remember, you get what you pay for.  We hope you'll give First Coast Home Pros the opportunity to make your home cleaner and healthier with our air duct cleaning service!
We 100% guarantee our air duct cleaning service for 1 week (excluding normal accumulation of dirt and debris).  This guarantee period is meant to give you adequate time to be sure the job has been done properly and to your satisfaction.  If during this period you are not satisfied with the work that was done for any reason, please contact us so we can make it right.
—–
For more information or to schedule a free estimate, please call 904.383.7721 or email service@firstcoasthomepros.com.