Jacksonville Carpet Cleaning Service
Are you looking for a luxurious carpet cleaning service in Jacksonville, FL without a huge price tag or hard sell tactics?  Have you felt uncomfortable in the past with carpet cleaning technicians who have come to your home?  Call First Coast Home Pros for the very best carpet cleaning service you can find in Jacksonville, Florida - we guarantee it!  Our technicians are friendly, professional, and committed to quality.  Here is what you can expect from our steam cleaning service:
Soft, Clean Carpets - Without Any Hassle!

Dries In A Few Hours
Stays Cleaner Longer - No Residue Left Behind
Top of the Line Truck Mount Equipment.
No Charge for Pre-Vacuuming
Pretreatment & Neutralizing Rinse Included with Every Carpet Cleaning Job
No Hidden Fees - No Bait & Switch
First Coast Home Pros is a full service professional carpet cleaning company using the best techniques, highly trained, IICRC (The Clean Trust) certified technicians, and the most technologically advanced equipment on the market.  If you want your carpets cleaned right the first time, every time, you'd better call First Coast Home Pros.
Excellence in carpet cleaning is a direct result of three things: the technique, the technician, and the equipment.  First Coast Home Pros carpet cleaning service excels in each of these areas and is proud to be the local leader in professional steam cleaning services.
Our Technique
We use the hot water extraction method (commonly called steam cleaning) which is recommended by nearly all  carpet manufacturers and carpet fiber producers.  It is safe for your carpets and is far and away the best method for achieving the deepest steam cleaning and overall best results for your carpet.
The carpet cleaning services Jacksonville, FL includes:
IICRC Technicians - Our carpet cleaning experts are trained and certified to provide the best cleaning services possible.
Steam Cleaning - The best, most thorough way to clean your carpets according to carpet manufactures and the Carpet & Rug Institute..
Stain and Odor Removal - Do you have a tough stain? If anyone can remove it, we can. Finding quality carpet cleaning services in Jacksonville, FL is difficult, but our experience and satisfied customers proves we can get the job done.
Our Technicians
Hot water extraction does require a skilled technician to be done properly.  Hire the wrong company or one of the cheap fly by night outfits and here is what you will get: Carpets that stay wet for a long time, spots that go away after the initial carpet cleaning only to resurface a few days later, carpets that look dirtier a month after cleaning than they did before, and hard upselling to get you to pay extra for things that should be included in a normal cleaning.
Our technicians are IICRC (The Clean Trust) trained to deliver the best carpet cleaning experience possible.  In most situations, after a First Coast Home Pros steam cleaning job your carpets will be dry within a few hours of cleaning them because we take the time to double extract them.  You won't see spots reappear in your carpet because we take the time to remove them completely to keep them from wicking up into the carpet fibers.  Your carpets will stay cleaner longer with our method because we use a neutralizing rinse with every job, removing all residue from your carpet.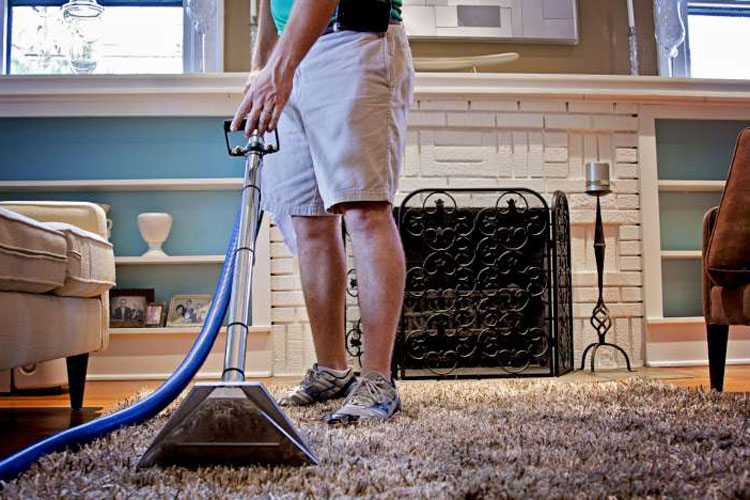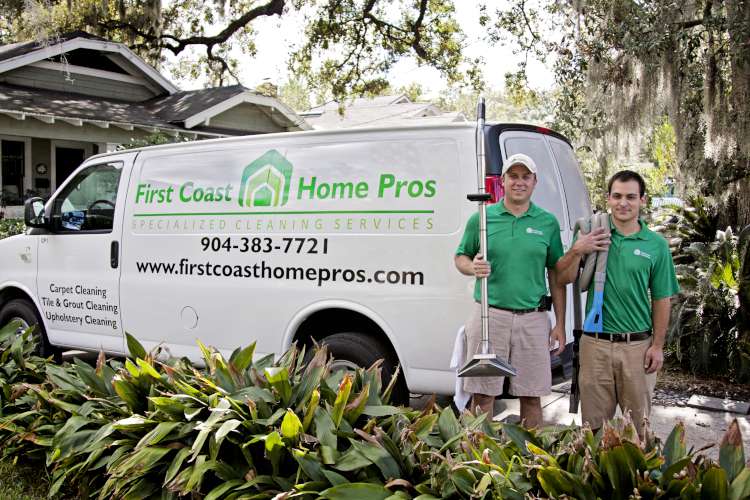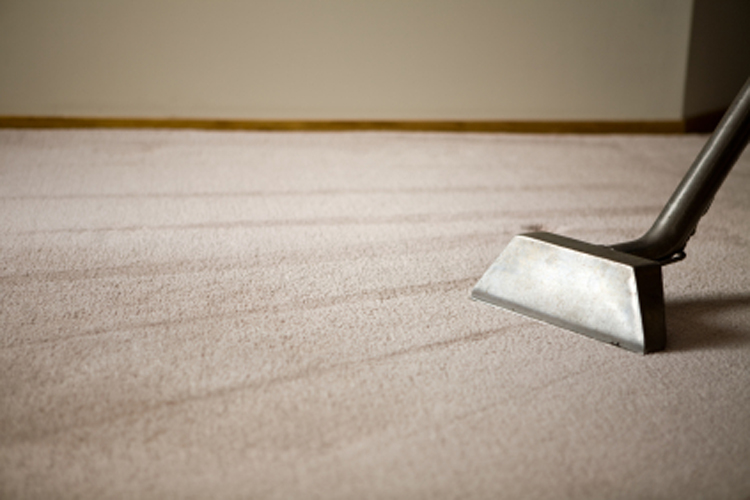 fchp_oakst_proofs_086-750
Probably one of the most frustrating things about engaging a carpet cleaning company is the sales process.  Bait and switch tactics are the norm in this industry.  We are very proud of doing business with integrity in everything we do.  Our steam cleaning pricing is honest, straightforward, and easy to understand.  There are no travel charges, no fuel surcharges, no extra charges for vacuuming, no extra charges for pre-spraying, no extra charges for our neutralizing rinse, and moving standard sized furniture is complimentary upon request.  We have standard pricing for cleaning, restoring, deodorizing, and protecting your carpets.  With First Coast Home Pros you can expect the very best service possible at the best value possible.
Our Equipment
We use the most technologically advanced truck mounted equipment available to the carpet cleaning industry. Simply put, there is no one in the city of Jacksonville, Florida who has better steam cleaning equipment than First Coast Home Pros.  This equipment is costly, but the difference in the results for our customers is huge.  The water gets hotter, the suction is better, our carpet cleaning tools are more effective, and the bottom line is that your carpets get cleaner.
Stain and Odor Removal
Every spot is different, and it's important to remember that the removal process is not the same for every spot.  Our service includes treating the majority of spots that may be in your carpet.  While some spots may be permanent stains and impossible to remove, with our training and expertise, we believe we have the best chance of anyone to remove tough spots in your carpet.  While treating most spots is included at no extra charge, some situations do require an additional charge to attempt removal.  For example, severe urine stain and odor removal is a very involved and time consuming process, and so we have to assess each individual situation to give a quote for this.
Affordable, Quality Carpet Cleaning Services
There's nothing better than when your old carpet is restored to its original color. Over time, the look and feel of your dingy carpet will wear on your family and even affect your health. How so? The dirt and debris that's trapped in the fibers will enter into the air with every step you make. The allergens will increase and start to cause asthma-related symptoms. For this reason, it's important to get a carpet cleaning service completed at least twice a year.
In addition to improving the health of your family and home, carpet cleaning services also has some aesthetic appeal. When you restore the look of your carpet, remove pet odors and stains, and remove all of the trapped gunk and dirt, your entire will home will look cleaner and fresher. It's amazing the difference an affordable carpet cleaning services from First Coast Home Pros can make on your home!
Professional Carpet Cleaning Company Jacksonville, FL
No matter which home carpet cleaning tips and tricks are used, eventually the carpet will need a reliable professional carpet cleaning company in Jacksonville, Fl to restore its natural beauty. In addition to the renewed look of the carpet after being professionally cleaned, using a professional carpet cleaning company in Jacksonville, Fl includes the following additional benefits:
Ensures a Longer Carpet Life
It's important to get all of soil and dirt embedded deep in the fibers of the carpet. Unfortunately, vacuuming alone will not effectively accomplish this. The state-of-the-art equipment used by the best professional carpet cleaning company in Jacksonville, Fl, First Coast Home Pros, will keep carpets clean and fresh, which effectively extends the longevity and appearance of the carpet.
Better Indoor Quality
Carpet is like a magnet for bacteria, dirt, allergens and several other pollutants. As a result, it's essential to have proper carpet and floor care on a regular basis. Even then, scheduling a professional carpet cleaning company in Jacksonville, Fl to steam clean the carpet will significantly improve the indoor air quality. The hot water extraction method or steam cleaning used by the experts at First Coast Home Pros has proven to be highly effective at removing bed bugs and dust mites that may have nested deep in the carpet, and this is still the best carpet cleaning method available according to carpet manufacturers and the Carpet & Rug Institute.
Improves Overall Room Appearance
Fresh carpet is integral to a fresh and vibrant room atmosphere. No matter if the room is a residential space or office space, it's always more welcoming without stains and spots on the carpet. While standard cleaning procedures can clean the carpet, disturbing pet stains and several other hard-to-remove spots usually require a professional carpet cleaning company in Jacksonville, Fl for extraction. Keep in mind, regular professional carpet cleanings are the remedy for dull, depressing, and dirty carpets.
Prevent the Growth of Mold
Particularly with Florida's high humidity, filthy carpets are at an extremely high risk for growing mold. In Florida temperatures, moisture will commonly enter the home and settle deeply in carpet fibers if it's not vacuumed or dried immediately. The best way to prevent mold growth is to have the carpet professionally cleaned on a regular basis to prevent mildew and mold growth that could be caused by high moisture cleanings that you might get from lower cost carpet cleaners. The best professional carpet cleaning company in Jacksonville, Fl will utilize high-powered tools to eliminate moisture in the carpet resulting in a mold and mildew free home.
We hope you'll consider us for some of our other services.  We offer a full line of floor cleaning and fine fabric cleaning services, including:
Carpet Cleaning
Mattress Cleaning
We 100% guarantee our steam cleaning service for 1 week (excluding normal accumulation of dirt and debris).  This guarantee period is meant to give you adequate time to be sure the job has been done properly and to your satisfaction.  If during this period you are not satisfied with the work that was done for any reason, please contact us so we can make it right.
-----
For more information or to schedule a free estimate on carpet cleaning in Jacksonville, FL, please call 904.383.7721 or email service@firstcoasthomepros.com.