Jacksonville Pressure Washing Service
First Coast Home Pros in Jacksonville, FL offers more than just a pressure washing service – we deliver a comprehensive exterior cleaning service using the best equipment and the safest low pressure cleaning techniques.
We have the experience, knowledge, and the professional tools to tackle even the toughest power washing or power wash jobs with astonishing success.  You can trust that we will take the time to clean your home safely and effectively without risking any damage to your property, either by high pressure or harsh chemicals.
Pressure washing is an excellent solution for:
house exteriors (all types including coquina)
driveways, walkways, & patios
pool decks & screened enclosures
wood fences & decks
concrete, brick, pavers, & most stone
There are a lot of guys running around town with a power washer in the back of their truck, and there are several pressure washing companies in the area.  But having a power washer does not mean you know how to use it properly, or that you understand the principles of power cleaning (CHAT – Chemicals, Heat, Agitation, and Dwell Time).  We don't think it's worth the risk of hiring some fly by night operation or spending days trying to DIY.
Want the job done right?  We are pressure washing experts!
When pressure cleaning your home, we use very low pressure combined with a mildly chlorinated cleaning solution to gently clean and rejuvenate your home.  Some inexperienced individuals will use far too much pressure when power washing and subsequently risk damage to the cleaning surface, usually because they simply don't know any better.  High pressure can certainly be problematic, but harsh chemicals also pose unneeded risks to your property.  First Coast Home Pros is very proud to clean your home effectively using the appropriate balance of low pressure and  gentle chemicals.
Another consideration in who to hire for your power washing project is what kind of insurance coverage a company or person carries.  For your protection, our pressure washing service, like all of our services, is fully insured with $2 million in general liability insurance, full workers comp coverage on all employees, and we are bonded as well.  This is probably one of the most important factors in making a decision about who to hire to power wash your house for you, but is often not considered by many homeowners.  We think this another reason to let us to do your pressure washing for you.  However, if you do decide to do your own power washing or if you hire someone else for the job, here is one helpful tip that can save you thousands of dollars and a lot of hassle: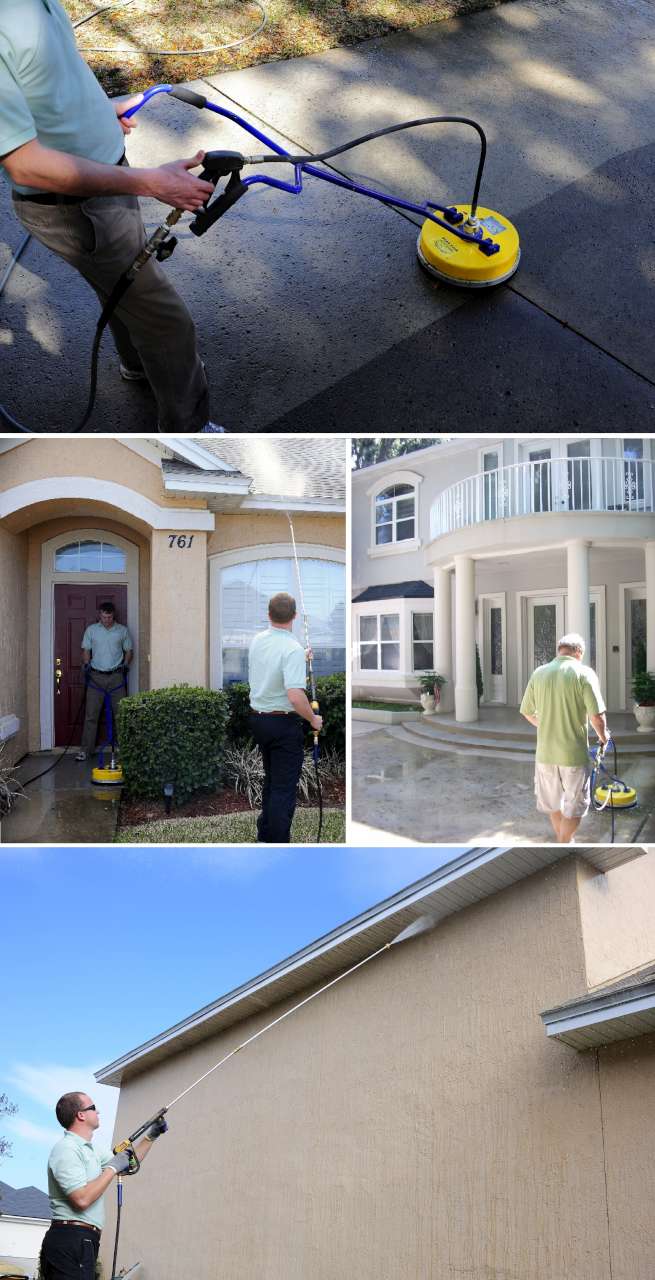 Don't let anyone pressure wash your windows!
Even though we won't pressure wash your windows, we would love to clean them!  In fact, customers do often ask us to clean their windows after we are done pressure washing, which we think makes a whole lot of sense.  If you're interested in putting the finishing touch on a good pressure washing job, we hope you'll consider our window cleaning service as well.
Concerned about high pressure or harsh chemicals?
This paragraph is meant for you!  Many companies advertise non-pressure as their biggest selling point for their exterior cleaning process.  While using low pressure is very important, what this type of non-pressure process typically means is that they are going to apply very large quantities of very strong chemicals to your home so they can do the job as quickly as possible.  We hear all the time about other companies who have killed all the plants or ruined parts of a house because they used excessive amounts of excessively strong chemicals in order to race in and out of a job.  It's all about balance, and while it does take a few more minutes and a little extra care to clean the way we do, we are happy to take the time to do the job right so that you can have a beautiful home without risking ruin for your property.
Bottom line?  Our pressure washing service is guaranteed to safely and effectively revitalize your property by removing years of unsightly dirt, bacteria, mold, mildew and other stains.  Also, consider our separate roof cleaning service if you have streaks and algae stains on your shingle, tile, or metal roof.
We 100% guarantee our power washing service for 1 week (excluding normal accumulation of dirt and debris).  This guarantee period is meant to give you adequate time to be sure the job has been done properly and to your satisfaction.  If during this period you are not satisfied with the work that was done for any reason, please contact us so we can make it right.
For more information about our Jacksonville pressure washing services or to schedule a free estimate, please call 904.383.7721 or email service@firstcoasthomepros.com.