Jacksonville Screen Repair & Replacement Service
Whether you need a single screen replaced or your entire pool enclosure rescreened, First Coast Home Pros is the best choice for your screen repair or rescreen job.  We replace screened enclosure panels, rescreen screened enclosures, rebuild window screens, build custom window screens, rescreen window screens, etc.  When it comes to screen repair and replacement jobs, we do it all! We offer a comprehensive, fully customized screen repair service for your screened porch, lanai, pool enclosure, screen doors and window screens at an affordable cost.  For screened enclosures, many companies simply charge a blanket price per square foot for rescreening jobs (usually around $1.25 per square foot for basic 18/14 mesh).  Our prices average out in that same price range or slightly less, however we do not charge by the square foot – we charge by the panel.  This allows us to give you better pricing for the specific panels you need to have replaced (ceiling panels, door panels, side panels, etc.
Did another screen repair outfit leave you hanging?  We show up when we say we will!
We hear all the time about other screen repair guys never showing up and putting customers back week after week.  We don't work like that – we keep the appointments we make!  In order to keep an accurate and reliable schedule and so we can give you the best possible prices, we first need to come out to your house for a free, no-obligation consultation during which we assess your needs, take measurements, and show you samples of various screen materials available to you.  Please note, because of the complex nature of rescreening jobs, we cannot give you pricing over the phone. We replace:
Torn, loose, brittle, or otherwise damaged screening for windows, pool enclosures, lanais, and screened porches
Screened door parts & kickplates
Broken or bent window screen frames
Broken window screen corners
Custom built window screens
We also offer various types of materials including standard insect screen, No-See-Um screen, BetterVue® (discontinued by the manufacturer effective June 2013 – limited quantities available), TuffScreen® / Super Screen® (10 year warranties), pet screen, and solar screen.  We carry both Phifer® and New York Wire® screening products in 20/20, 18/14, and 16/14 mesh.  We also offer a full assortment of window screening and aluminum framing materials. When repairing or rescreening screened enclosures, we also take great precautions to do the job safely without taking unnecessary risks (with ourselves or your property).  When screened enclosures are first installed, the ceilings are usually put together and screened on the ground and then installed as one big piece.  Rescreening is not so simple.  To replace ceiling panels, some screen repair guys will walk out onto your enclosure, which is very dangerous since the frame and fasteners are usually aluminum and sometimes corroded.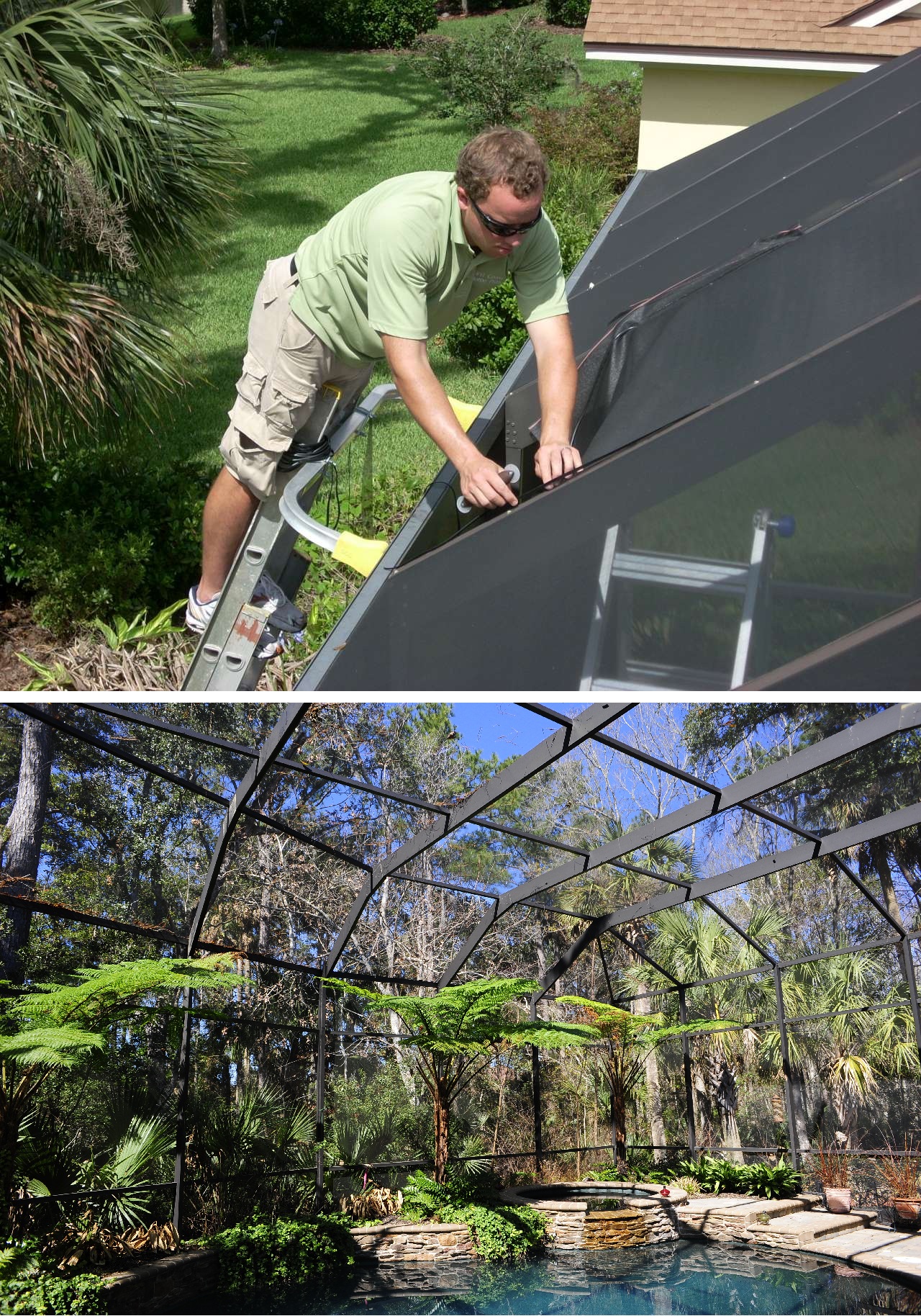 Don't let anyone climb up to work on your screen cage without worker's comp coverage
The fly by night guys love to tell you they are good to go with workers comp because they are exempt with less than 5 employees.  Opting to exempt yourself from carrying worker's comp is not the same as having worker's comp coverage, and if a worker is injured on your property, you and your homeowner's insurance will surely appreciate you knowing that fact. We use the safest equipment available (highly rated walkboards, telescoping A-frame ladders, and extension ladders) to easily reach these higher areas so we can do the work safely and with even greater efficiency.  We are also fully insured, including general liability insurance and workers compensation insurance.  Another point of interest is that most of the big screening companies nearly always subcontract the work out, too often to people who cut corners in order to get the job done faster.  One company sells you the job, somebody else does the work, and then they send you back to the manufacturer for warranty issues.  This means you end up paying more money for inferior quality and more hassles down the road. We never, ever subcontract under any circumstances.  Only First Coast Home Pros owners and employees do the actual work, ensuring that your screening job is of the highest quality and is going to last for many years.
We are also proud to help you handle any warranty issues you may have even after our own no questions asked guarantee ends. We 100% guarantee the craftsmanship and materials of our screen repair service for 1 year (excluding normal wear and forceful damage).
For more information or to schedule a free estimate, please call 904.383.7721 or email service@firstcoasthomepros.com.