Jacksonville Window Cleaning & Window Washing Service
Window cleaning is hard work and it takes skill to achieve a professional shine. Our window cleaners use a meticulous squeegee cleaning system and only the best cleaning products to make your windows look better than they ever have before. Not only will your glass gleam, but you will notice that we pay attention to the big picture as well. The end result of a First Coast Home Pros window cleaning job isn't just that your windows look great – your whole home glows. We use a top quality biodegradable window cleaning solution containing no phosphates or ammonia, so it won't harm your glass or your window trim, whether it's vinyl, metal, or wooden. Our pH neutral professional formula has anti-static properties that repel dirt from glass, keeping your windows looking cleaner longer!
Nobody cleans windows like we clean windows!
interior and exterior
high, vaulted, and skylights
storm windows
Pella inserts
paint removal, detailing and edging
sill cleaning
frame cleaning
grid removal
We are careful not only to get your windows sparkling clean, but we take the time to work around your shrubbery and furniture without damaging anything in the process. We even take our shoes off when we come inside your home. Ultimately, we like to leave every home we visit in better shape than we found it.
Don't let anyone pressure wash your windows
Many painting companies and pressure washing companies will tell you they'll go ahead and throw in "free" window washing if you have them do the painting or pressure washing. In the mind of a professional window cleaner, this idea is utterly laughable. Don't fall for this trick unless you want your windows to get scratched up by painters or ruined with broken seals and hard water spots from pressure washing. Unless the person dealing with your windows has the experience and tools to clean them properly and actually takes the time to do it, they'll leave your windows looking worse after the fact than they did before.
Selecting the right person or company to clean your windows is not an easy task. For starters, "clean" means different things to different people. Many window cleaners use extension poles to clean high windows (even first floor transom windows). We get to them using ladders with special foam stabilizer stand off arms, which means we can scrub all the dirt off and squeegee them with great accuracy. Also, most window cleaners do not edge wipe. That means they just wet down the window, squeegee it off, and then leave whatever water that is on the window right where it is – on the window. We use industry specific lint free towels to wipe the edges of the glass where the squeegee necessarily leaves about 1/2 inch of water on each edge.
We hear all the time from new customers who have previously used some of the big franchise or commercial window washing operations in town. They all tell us the same thing – they were in a big hurry, slopped water all around the house, didn't scrape off paint or shotgun spores, and the "wax" that they love to tell you makes your window cleaning last longer only makes the windows look hazy. You don't wax the windows on your car when you detail it, why would you wax the windows on your house? Cleaning high rise or store-front commercial glass and the windows at your house are completely different things, especially in terms of quality. We are the foremost experts in achieving perfection in residential window cleaning. If you want your windows to look perfectly clean from top to bottom, we are the only real choice in town.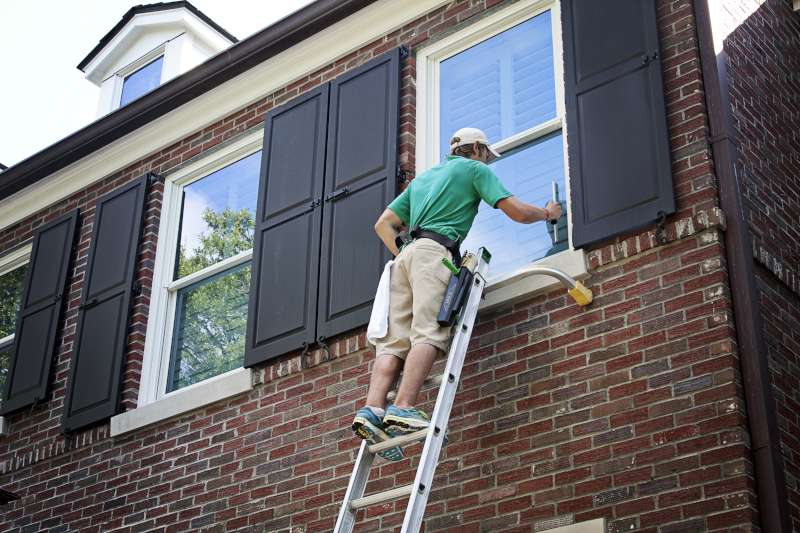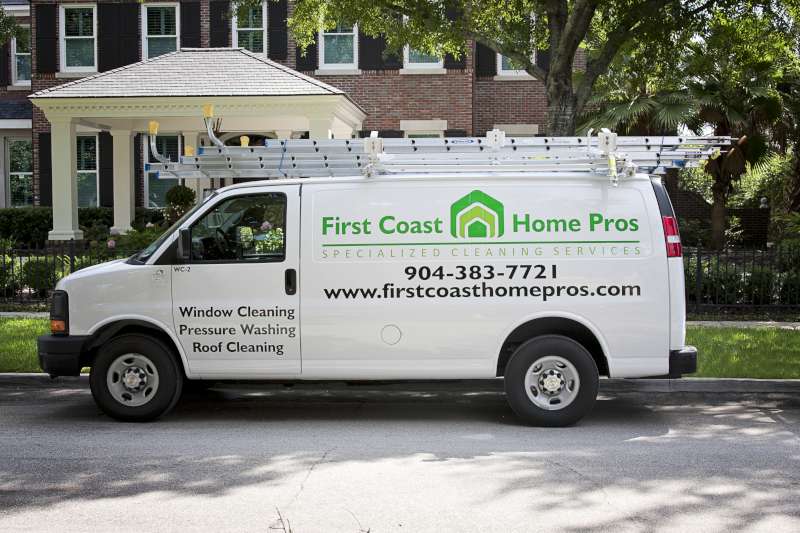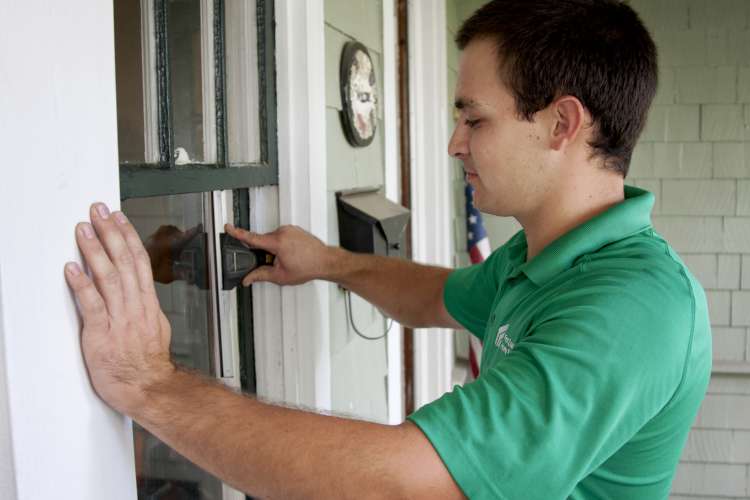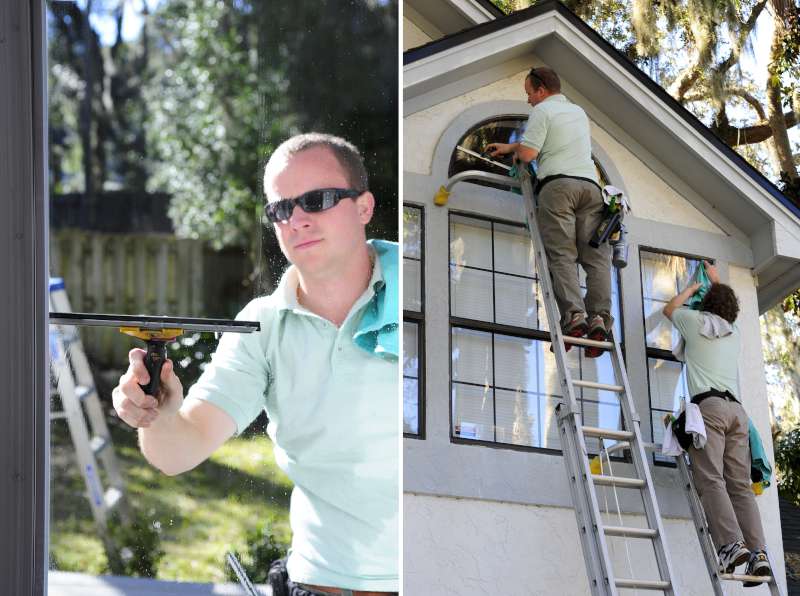 fchp_oakst_proofs_086-750
First Coast Home Pros itemizes all of the charges in order to give you the best prices possible. On your estimate you will see a line item for cleaning the outside of the windows and a separate line item for cleaning the inside. If you have screens on your windows, you will see a line item for cleaning those, too. That way you know exactly what each step of the process costs and you can pick and choose the ones you want at any given appointment without having to haggle over prices down the road. The bottom line on a First Coast Home Pros window cleaning estimate is always the same – great prices for far superior quality.
We also have a specialized team that offers complete glass polishing services, including scratched glass repair and hard water stain removal.  When a door or window is scratched, sometimes it can be more cost effective to buff the glass to repair the scratches instead of replacing the glass, depending on the type of window or door.  Mineral deposits (often called hard water spots) are a common problem in northeast Florida and our polishing process is a great solution for windows, doors, and shower glass that have hard water stains.
We hope you'll also consider our other specialized cleaning services that customers often ask us to perform in conjunction with our window cleaning service:
We 100% guarantee our window cleaning service for 1 week (excluding normal accumulation of dirt and debris). This guarantee period is meant to give you adequate time to be sure the job has been done properly and to your satisfaction. If during this period you are not satisfied with the work that was done for any reason, please contact us so we can make it right.
—–
For more information or to schedule a free estimate, please call 904.383.7721 or email service@firstcoasthomepros.com.