Jacksonville Wood Floor Cleaning Service
Your wood floors are a beautiful and essential feature of your Jacksonville home. Whether you have solid hardwood or engineered wood, preserving it with proper flooring maintenance is imperative to prevent costly sanding and refinishing projects.
A professional wood floor cleaning service in Jacksonville from First Coast Home Pros includes thoroughly washing your hardwood floors and adding a sleek new protective coating. We'll help add value and safeguard your investment while providing it with a beautiful aesthetic you can be proud of for years to come. 
Why Should I Have My Wood Floors Professionally Cleaned?
Even if you follow wood floor cleaning tips and sweep and mop them regularly, they'll eventually show scuff marks, scrapes, and scratches from decades of daily punishment. Yet, the cost to replace or refinish your hardwood floors can be expensive, not to mention disruptive to your household or business.
A more cost-effective solution is to call in the Jacksonville wood floor cleaning professionals at First Coast Home Pros. Our hardwood floor specialists know the right way to clean your floors and get them shining like new again.
Our dustless cleaning and recoating process can add years to your floor while minimizing inconvenience to you. Our fast and effective service:
Extends the durability and usefulness of your wood floor

Eliminates surface dirt and allergens, including pet dander and pollen, to asthma- and

allergy-proof your home

Deep cleans to remove the grime that your mop can't reach

Prevents future damage with a protective finishing coat

Adds a long-lasting shine

Sanitizes your floors and reduces bacteria
How Do You Clean Wood Floors?
Our wood floor cleaning system in Jacksonville is a two-step process that aggressively clears away dirt, bacteria, grease, hair, dust, and built-up residue. Our method adds beauty to your tired looking floors and brings back their lost luster: 
First, we use a low moisture cleaning process with an aggressive high-alkaline wood floor cleaner. 

Then, we use an alcohol-based cleaner that's on the middle of the

pH scale

to neutralize your floor.
Our hardwood floor cleaning process can be performed as a stand-alone maintenance procedure or completed in preparation for a finish coat.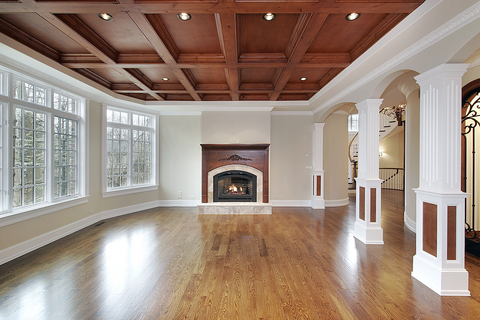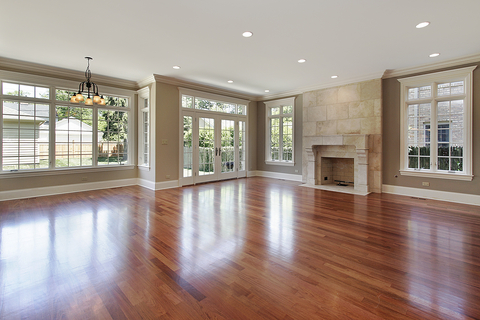 Wood Floor Cleaning Satin Two
Wood Floor Cleaning Satin One
Can a Finish Coat Get My Wood Floors to Shine Again?
Once we've completed our cleaning service, have us apply a finish coat to restore a uniform luster to your floor. Our urethane finish can be applied in either a satin or gloss sheen, depending on how shiny you want the finish to be.
The refinisher maintenance coating is a water-based urethane, which remains on the outer layer of wood to form a protective barrier against moisture. Water-based urethane has numerous advantages to outdated oil-based varnishes: 
Water-based urethane dries and cures quickly, which minimizes any inconvenience to you. You'll be able to walk on your floors again within six hours.

It's also a low

volatile organic compound (VOC)

finish, meaning it's less harmful, has fewer unpleasant fumes, and is a "greener" choice for your flooring. 

Innovative nanotechnology particles make this finish one of the most durable coatings for wood flooring protection.

Your floors will become low maintenance and easy to clean with your regular sweeping and mopping regimen.
Will I Need to Have My Wood Floors Restored First?
In most cases, we do not need you to sand or refinish your wood floors before we clean them. Though periodically older floors, or those that have suffered extensive abuse, may require restoration in advance. For example, your floors may need to be sanded first if:
You have exposed bare wood showing through the finish.

There are variations in the color of the stain. 

There are deep cracks, scratches, or indentations.

Pet stains have discolored the wood.
Additionally, special considerations may be needed when wood floors have been maintained using paste wax, acrylic wax, or acrylic floor polish. 
These solvents eventually become dull and discolored. Therefore, we will need to strip them away before cleaning can begin.
Free In-Home Wood Floor Consultation in Jacksonville
Since multiple variables go into floor cleaning, it's difficult to know how much preparation will be needed for your floor without seeing it ourselves. Consequently, we recommend scheduling a free in-home estimate and consultation for more information about our wood floor cleaning and finishing system. 
At your consultation, a Jacksonville wood floor cleaning specialist from our team will visually inspect your wood floor to determine its current condition. Then, they will let you know precisely what your floor needs and how much it will cost. 
Turn to First Coast Home Pros to Clean Your Wood Floors in Jacksonville
Extend the lifespan of your wood floors and restore their beauty with the professional Jacksonville wood floor cleaning services of First Coast Home Pros.
We guarantee our wood floor cleaning service for 30 days (excluding normal build-up of dirt, debris, and filth). If you are not completely satisfied during that time, we'll come back to make it right.
Contact us about your wood floor cleaning project by calling us during our regular office hours, Monday through Friday, 8:30 a.m. to 5:00 p.m. Or you can email or fill out our online contact form anytime, and someone will be in touch with you soon!