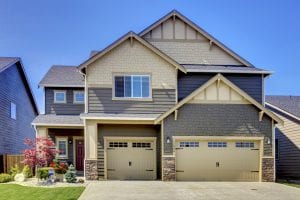 Whether you're looking to increase your home's resale value or just want a more inviting place to come back to after a long day at work, increasing your curb appeal is one of the cheapest and most effective ways to do it. With just a little professional cleaning and touching up around its exterior, your home will look newer and fresher. Our specialties include low pressure roof cleaning, gutter cleaning, pressure washing, and window cleaning in Jacksonville and surrounding areas.

Low Pressure Roof Cleaning
Over time, dirt and grime accumulate on your roof from nearby trees, passing birds and squirrels, and mold and algae growth from rain. This can leave it covered in dark stains and possibly begin to eat away your shingles. Proper cleaning can make it look brand new, but improper cleaning can do even more damage.
It's obvious to most homeowners that a high pressure wash can blast away their shingles. This is why many low budget cleaners go with a non-pressure clean. While they can make them look brand new with this method, it works by using strong chemicals that eat away at the adhesive that holds your shingles together over time. Our low pressure clean uses only safe chemicals and ensures that they are washed away before we leave.
Window Cleaning
Window cleaning is another great way to freshen up your Jacksonville home and enhances its look both inside and out. Even if you don't have misbehaving children or pets putting their faces or hands on the glass, windows still get dirty over time from water spots, bugs, and lawn mowing. While occasional hand cleaning is great, we can achieve a professional shine on even your hard to reach upstairs windows that makes your whole home glow.
We use a meticulous cleaning method using squeegees and a biodegradable window solution. We pay close attention to detail to ensure that all surfaces are shined and our cleaning doesn't leave new water spots. We're also careful to protect your seals from damage and to keep your windows and surrounding areas from being scratched by our work. We provide a one week guarantee to make sure your home is in better shape than before our work began.
Gutter Cleaning
The insides of your gutters may not be visible, but clogged gutters can lead to visible dirty areas if water backs up onto your roof or pours down walls or windows in undesirable locations. In addition to manually removing all debris, we flush your gutters and downspouts with air and water until we have ensured there is a good flow.
While many homeowners may think this is a simple do-it-yourself project, missing or skipping a spot because it is hard to reach can leave you down a relaxing weekend afternoon with nothing to show for it. In addition to guaranteeing that there will be no overflow, we will also clean the exterior of your gutters and can combine your gutter work with other services such as roof cleaning.
Pressure Washing
Pressure washing is a great way to clean your home's hard surfaces such as exterior walls, driveways, patios, decks, walkways, fences, and other stone surfaces. While pressure washing may seem like a simple point and spray process, there are risks of damage from using too high pressure on certain surfaces and using the wrong chemicals can also cause damage or leave the surface unclean.
As with all of our professional cleaning services, our pressure washing is fully backed by our one week guarantee to ensure that you're satisfied with the clean. In addition, we are licensed, bonded, and insured for the protection of both you and our employees. This means that you won't have to worry about us getting the job done right or wonder what happens if something goes wrong.
Professional Cleaning Services
Whether you need pressure washing, gutter cleaning, roof cleaning, or window cleaning in Jacksonville, you can rely on us to send a skilled professional who is trained to get the job done right the first time. While cheaper options may be available, ask if those prices include guaranteed reliability and satisfaction. We offer free estimates, so give us a call today to discuss how we can enhance your home's curb appeal.