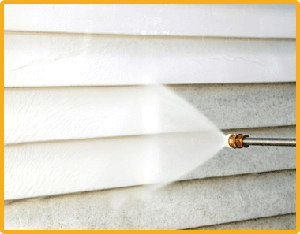 Why is pressure washing Jacksonville FL homes so important?  Some people consider it a function that's performed when something becomes dirty.  However, it's so much more than just a cleaning chore.  Therefore, let's talk about the different types of power washing that will knock your socks off and save you thousands of dollars while extending the life of your home.
The Importance Of Cleaning Your Siding
Pressure washing Jacksonville FL siding has many benefits aside from just keeping it clean.  Here are a few great reasons to wash your home's siding:
Clean siding will enhance the curb appeal of your home
Keeping your siding clean will prevent the buildup of mold and mildew which can damage and even ruin your siding.  Additionally, pollution, pollens, animal droppings, etc. all build up over time and will cause your siding to deteriorate if not removed.
While you're cleaning your siding, you should include the manual cleaning of your windows as well.  Make sure a pH neutral solution is used so that it will repel dirt and keep your windows looking clean longer.
Pressure washing Jacksonville FL siding will protect your investment for years to come.
Your siding serves many purposes and well-kept siding may also increase the value of your home.  Therefore, it's important to inspect it periodically and wash it at least once each year.
Do You Need To Clean Your Roof?
Well, the answer is yes, definitely!  Your roof is one of the main components of your home.   What many people don't realize is that by not cleaning the roof, they're actually shortening its life expectancy and could be voiding its warranty as well.
Cleaning your roof is important.  However, this is not something you should try to do yourself. The pressure of the water can ruin your roof and its shingles if you don't know what you're doing. Therefore, roof washing should only be performed by trained professionals.
Over time, mold, mildew and debris will buildup on your roof.  The built-up debris will collect and hold water. This will in turn damage your shingles and the wood decking underneath. Additionally, mold and mildew also produce harmful effects that could permanently damage your roof if not removed. Therefore, it's important to wash your roof at least once every 3-5 years to prevent the buildup of mold, mildew and debris.
Check your roof's warranty. Some warranties cover roof washing, which means no out of pocket expense for you.
There's no argument about the benefits of keeping your roof clean. Therefore, there really is no excuse for neglecting your investment.
Cleaning Your Sidewalks and Driveways
It's true that the main reason most people keep their sidewalks and driveways clean are so they always look nice and visually appealing. However, there is another reason keeping your sidewalks and driveways clean and washed is important. And actually, this next reason is just as important, and perhaps even more important than anything else we've mentioned.
Maintaining your sidewalks and driveways in a clean condition will help keep you from creating a huge liability. When cement gets dirty and develops a layer of mud, mold and mildew, it becomes slippery. The next thing you know someone in your family or a visitor to your home has slipped on the neglected traffic areas and has injured themselves. The result is mounting hospital bills or quite possibly a lawsuit.
What about High Pressure Cleaning using Harsh Chemicals?
High pressure cleaning and harsh chemicals are definitely a concern. Many companies will advertise the use of low pressure washing methods; however, in exchange, they use harmful chemicals to help speed up the cleaning process. The use of harsh chemicals could kill or damage the bushes and foliage surrounding your home, it could also potentially damage your home's exterior components as well. First Coast Home Pros only uses low pressure cleaning, chemicals and techniques recommended by the Asphalt Roofing Manufacturer's Association.
We could go on and on about the benefits of pressure washing Jacksonville FL homes but we'd be willing to bet that it's starting to make sense to you.
It will greatly enhance your home's curb appeal
It will help protect your investment
It will lower your potential for liability
If you would like more information about a professional for pressure washing Jacksonville FL homes, contact the experts at First Coast Home Pros where you will find a reputable company with reasonable fees.  Ask about our guarantee. We specialize in pressure washing Jacksonville FL homes. However, we also provide other cleaning and repair services well. Some of which include air duct cleaning, dryer vent cleaning, window cleaning, roof cleaning and so much more. Therefore, if you are looking for a service team to clean up your home, we are the team for you. We will provide a free estimate to you and guarantee your satisfaction.