Your roof is essential to a properly functioning home. Just as you need to provide a vehicle with maintenance to keep it running as expected, your roof requires care and upkeep as well. Keeping a clean roof is a key step in ensuring your entire home is in proper order. Evaluate your options for roof cleaning in Jacksonville, FL.

WHY SHOULD I HAVE MY ROOF CLEANED?
Appearance
Longevity
Property Value
Possibly Required in Your Community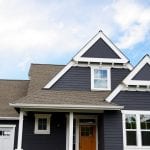 When you walk outside, you are being exposed to the elements. It could be sunny, raining, windy, or humid. With unfavorable conditions, you have the option to seek shelter. You would typically find your shelter under a roof. Your roof, however, is constantly exposed to the outside elements. Weather can bring about algae spores which can accumulate on your roof, causing discoloration. Not only is this algae unsightly, it is also damaging your roof. Debris that has fallen from trees or has been carried by the wind, such as leaves and dirt, may settle and decompose on your roof. This can also cause damage by corrosion. A damaged roof means the need for replacement, which can be extremely costly.
The life expectancy of a typical roof is approximately 30 years, provided it has been well cared for. Disregarding maintenance, including cleaning, can reduce the longevity of your roof greatly. Take special precautions and also review the chance that your community may actually require regular cleaning. Some communities do this to maintain property values in the area as well as uphold a respectable image.
WHAT ARE MY OPTIONS FOR ROOF CLEANING IN JACKSONVILLE, FL?
High-Pressure Cleaning
Low-Pressure Cleaning
Before you can consider your options, you need to consider your roof type. Certain methods may not be compatible with certain roof types. Although your roof is the object needing cleaning, you must also consider your landscaping. Certain methods of cleaning can be harmful and may damage foliage as well. Be sure to exercise caution when reviewing the options available.
High pressure cleaning is the most environmentally friendly option available. Typically, it does not involve chemicals and is more cost effective than a chemical treatment. However, it also ranks up there with damage. This method is not favorable with all roof types. Shingles, for example, can be blasted away easily with high pressure cleaning. With repeated high pressure cleanings, roof surfaces can also be worn away and damaged.
Low pressure cleaning is generally safe for all roof types. This method lies directly between the high pressure and chemical options, as it uses both pressure and chemicals. However, unlike a high pressure treatment, the low pressure is much gentler, about the same as a water hose.
WHY HIRE A PROFESSIONAL?
Knowledge
Skills
Materials
Peace of Mind
Although there are many do it yourself articles floating about, hiring a professional is the only way to ensure that the job is getting done right. Misinformation, lack of materials, and amateur cleaning can lead to unnecessary and permanent damages to your roof. Roof damage means inevitable roof repairs, which can cost you a great deal of your hard earned money. Avoid these potential troubles by hiring a professional.
We offer the safest method of roof cleaning in Jacksonville, FL. We provide low pressure cleaning with absolutely no sodium hydroxide or any other harsh chemicals. We also take great care in ensuring your landscape is well protected from any damage. Your home is your pride and we will exercise the same care and precautions that we would with our own homes. Our process is safe and effective for ALL roof types. From shingles to metal, ceramic to slate, you can put your mind at ease knowing that your home needs are being met with the greatest care.
In addition to roof cleaning, we also provide many other home maintenance services. With these other services, you can guarantee your home is in great condition from the inside out. These services include, but are not limited to:
Air Duct Cleaning
Carpet Cleaning
Gutter Cleaning
Housekeeping
Tile, Stone, and Grout Cleaning
Window Cleaning