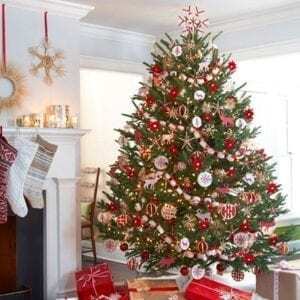 With special events lined up at the Performing Arts Center, and our lighted boat parade advertised everywhere, there's no escaping that the holiday season is on its way. House cleaning Jacksonville homes isn't on many minds, but it's an important preparation. If "decking the halls" equates to untangling tinsel for you, fear not. There are several ways to make decorating less stressful this time around, and even easier next year.
Stay Focused
Any job that takes over our homes can take over our enthusiasm, too. You wouldn't paint and wallpaper every room at once, so don't treat this sort of decorating as a whole-house project, either.
Take all your trimmings to an area where you can organize. With our typical daytime temperatures in Jacksonville remaining in the upper 60s right through December, this can usually be done outside. If it's raining, dedicate a day to doing this in the garage.
Separate your goodies according to destination. Make piles that are used in the lounge, in the kids' bedrooms, around the outside of the house, whatever your personal style dictates. Next, re-box everything independently, labeling each new group as you go. When you're decorating, start and finish one box — one room — at a time.
General Advice
There are a couple tips that serve to make life easier in every part of the house:
Remove any decorations you aren't going to immediately use from where you're working. If you're trimming the fireplace, for instance, separate those decorations from the ones that belong on the tree, then — for the time being — take the latter to another part of the house and leave them there. If you're not tripping over unnecessary clutter, the whole project will make you far less tense and drained.
While strings of lights and decorative streamers are beautiful once in place, they can become toys in the minds of small children and pets. Constantly competing for control will become irritating, and may actually pose a danger. Shut dogs and cats in a room where you're not working, and get someone responsible to take care of the little ones while you transform the place into a wonderland.
After It's All Over
When this year's holidays are a memory, don't simply dump all those trimmings, ornaments and strings of lights back into the boxes they came out of, hoping that next year will be different. Organize in advance! Pack away your goodies so that next time the season comes around, there'll be far less confusion to overcome:
When stripping the tree, be it artificial or natural, begin at the bottom. This will avoid lower ornaments being broken as you struggle to reach higher ones. Laying some towels or blankets on the floor may protect anything you drop, and it will certainly minimize the amount of pine needles you have to deal with later.
Pack the decorations away in separate totes dedicated to areas (sitting room, kids' rooms, outside, etc.). Label the boxes, so that next year you can open them up, one at a time, exactly where they belong.
If you live in a single room, or a small space, organize by function, instead. Put the tree baubles in one box, and the ribbons and bows in another. Again, label everything clearly and unambiguously.
On the subject of storage, use proper totes, not baggy, saggy old cardboard boxes. There's nothing worse than watching your treasures cascade from the loft trapdoor to the hall floor, because the bottom dropped out of a box while you were climbing down the stepladder. While green and red tote designs may seem more seasonal, clear storage bins are best of all.
Hard-sided totes also provide an added measure of security. Decorations tend to be very fragile, so keeping them in a rigid container is a good idea. Using proper bubble-wrap usually takes less space than scrunching up newspapers, and reducing bulk helps to minimize the challenge of putting your stuff away.
Setting the Scene
Naughty or nice, now's not the time to rely entirely on your own devices. Preparing for a hectic holiday season can mean a lot of cleaning, tidying and organizing before you even think about breaking out the ornaments. Consider calling in a little help from professional services which specialize in whole-house and targeted cleaning.
The impression your guests form will begin at the curb, and so should your preparations. Everything from pressure-washing the drive to cleaning the carpets, from washing windows to clearing autumnal debris from your pool enclosure, will make your home both more welcoming and more noticeable. Using a specialized Jacksonville house cleaning service to deal with these more routine matters will free up your time, allowing you to concentrate more on the things that really need your own personal touch.